Hidalgo Joie De Vivre De KO
"Juliette"
Juliette's Sire
CH

Starbright Summerstorm U!Run

UD RN PT NA NAJ
"P.D."
Reg. No.: DN025302/02
Born: January 15, 2003
Died: September 3, 2015 (laryngeal paralysis)
Color: Mahogany & Black
CHIC: 57062
OFA Hips: BT-4341E24M-VPI
OFA Elbows: BT-EL1669M24-VPI
OFA Thyroid: BT-TH457/104M-VPI
OFA Cardiac: BT-CA254/116M/C-VPI
CERF: BT-2914/2013-126
Bite: Scissors
Dentition: Full
Epilepsy: Free.
P.D.'s owner, Fran Friedman, wrote about him:
P.D. finished his Championship with four majors, including winning the Wolverine BTC Regional, all owner-handled. He has been among the final cuts in Best of Breed competition at all three ABTC Nationals he was entered. His mother was a CH OTCH UDT BAR bitch of English parentage, while his dad was a stunningly beautiful CH import from France.

P.D. is the "man for all seasons" — his owner's right hand, always willing to try everything with an up and willing attitude. He is a serious dog — protecting his household from two separate break-in attempts, yet gentle enough to babysit litters of puppies. He finished his CD and CDX in three straight trials each, and took only five trials to finish his UD — an enviable record! Whether you want P.D. to be a show dog or an assistance dog, he is ready for the challenge: a good lad with common sense.
P.D. is owned by Fran M. Friedman of Toldeo, Ohio. He was bred by Diane and Dutch Schultz and Sharon Redmer.
Juliette's Dam
CFC/FCC & Can. Ch, Can. OTCh

Nicha Jipsy De L'Hidalgo

PT NA NJP Can. HS RN AGN AGNJ CGN/BVC, SGDC CRN
"Jipsy"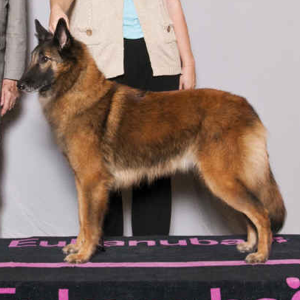 AKC Reg. No.: DN243870/01
CKC Reg. No.: SW125721
Born: November 16, 2006
Color: Mahogany & Black
AKC DNA: #V805447
OFA Hips: BT-5182E32F-VPI
Thyroid: Tested normal, 2012.
CERF: BT-367787/2013--80
Bite: Scissors
Dentition: Full
Epilepsy: Free at 7 yrs.+
Reproductive Status: Intact
About Jipsy, Isabelle writes on her web site (translated from French):
She has a unique personality. She is very energetic but also very gentle. Jipsy is an excellent bitch and quite versatile. Her work is lively and attentive. She excels in several sports including agility, obedience, rally and wherever else she can be active.

In every day life Jipsy is outgoing and loves everyone. She is always ready for anything. Our son Felix loves to play with her and they have developed a beautiful friendship.
Jipsy is owned and was bred by Isabelle Bouchard of Québec, Québec.